Had the Following discussion in response to my paper Role of Prophylactic Anti Coagulants and Anti Platelets to Reduce the incidence of Thrombosis, Stroke, Myocardial Infarction in Asymptomatic Patients of COVID19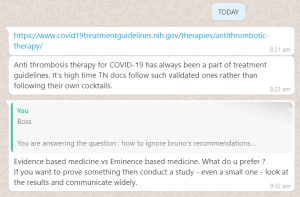 Comment :
Anti thrombosis therapy for COVID-19 has always been a part of treatment guidelines.
https://www.covid19treatmentguidelines.nih.gov/therapies/antithrombotic-therapy/ It's high time TN docs follow such validated ones rather than following their own cocktails.
My Response :
They are doing this only during hospital stay and stop it without checking coagulation profile But, I am asking this to be done based on coagulation profile
Use of steroids Was done by us Months before it was added to NIH
By the time they validate, We will lose another lakh
What is wrong in doing coagulation profile and treating that ??
Other than cost, Can you give any reason
Comment :
Use of steroids started because someone saw it being considered in certain trials (Solidarity trial). We ended up using it indiscriminately leading to mucor surge.
My Response :
For decades, We have been using steroids for treating pneumonia
You are answering the question : How to ignore Bruno's recommendations
I am answering the question : How to save lives
Both are talking entirely different topics
Between The recommendation you have quoted and my recommendations, which can save more lives
Comment :
Evidence based medicine vs Eminence based medicine. What do u prefer ?
If you want to prove something then conduct a study – even a small one – look at the results and communicate widely.
My Response :
I prefer evidence based medicine
I prefer to give anticoagulants based on PT, aPTT, INR and other tests
I don't prefer eminence based medicine – of quoting NIH guidelines – ignoring basic common sense
That is exactly what I say – Do coagulation profile, Treat as per results
What is wrong in the statement – Do coagulation profile and treat as per results
This is the evidence based medicine
Is it clear boss
Prove what ?
You want proof for the statement "Treat abnormal coagulation profile"
Come on saaar. . . It is 2nd year mbbs stuff
Comment :
Treat abnormal coagulation profile – is part of inpatient management boss – done routinely everywhere
My Response :
Perfect
That is what I am also saying
So
What did you really want me to prove
Comment (quoting my journal article) :
this – the prophylactic part
My Response :
The first statement is Do Coagulation profile for those at risk
The second Statement is Treat abnormal coagulation profile
Which statement are you asking proof ?
Which statement is not evidence based medicine ?
Read again. I never ask to give drugs. I ask to first do tests and give drugs only when results indicate it
What is the problem there ?
Yet to get response . . Will update if I get one